$A
1

00%

Handmade

in Michigan, USA by

Ron Luczak

,

Luthier est. 1985




Handcrafted one at a time utilizing the traditional methods of the famous
vintage
Kalamazoo-made Guitars of the 1950s & 1960s -

No CNC machinery & No pre-made components are imported or outsourced - Entirely built and assembled in Michigan,

USA*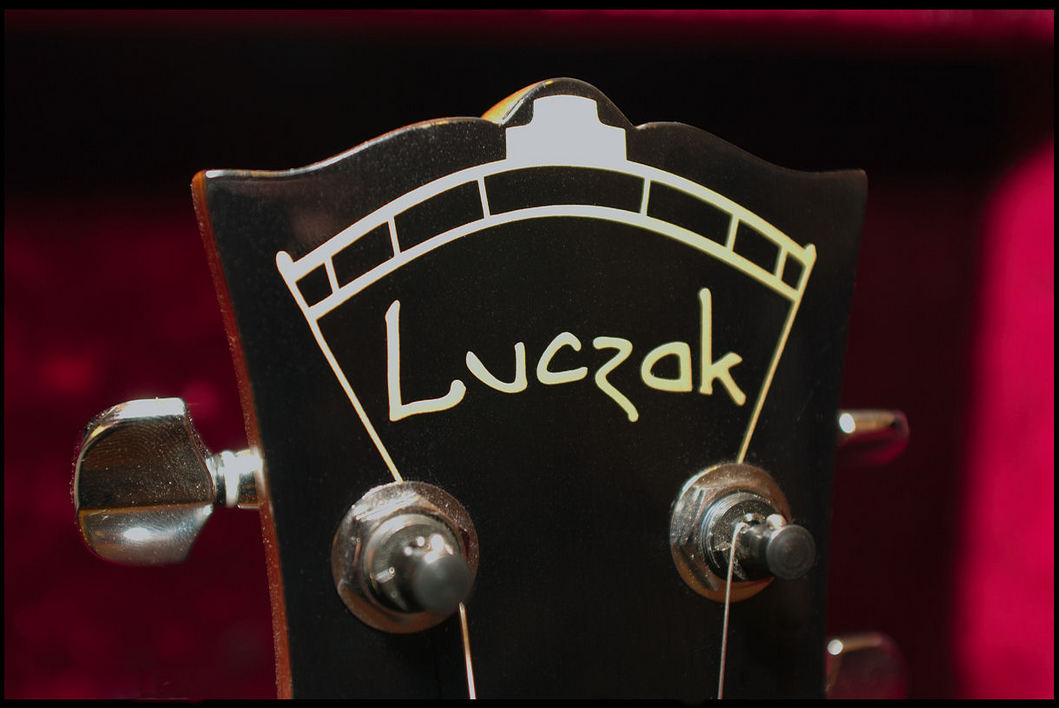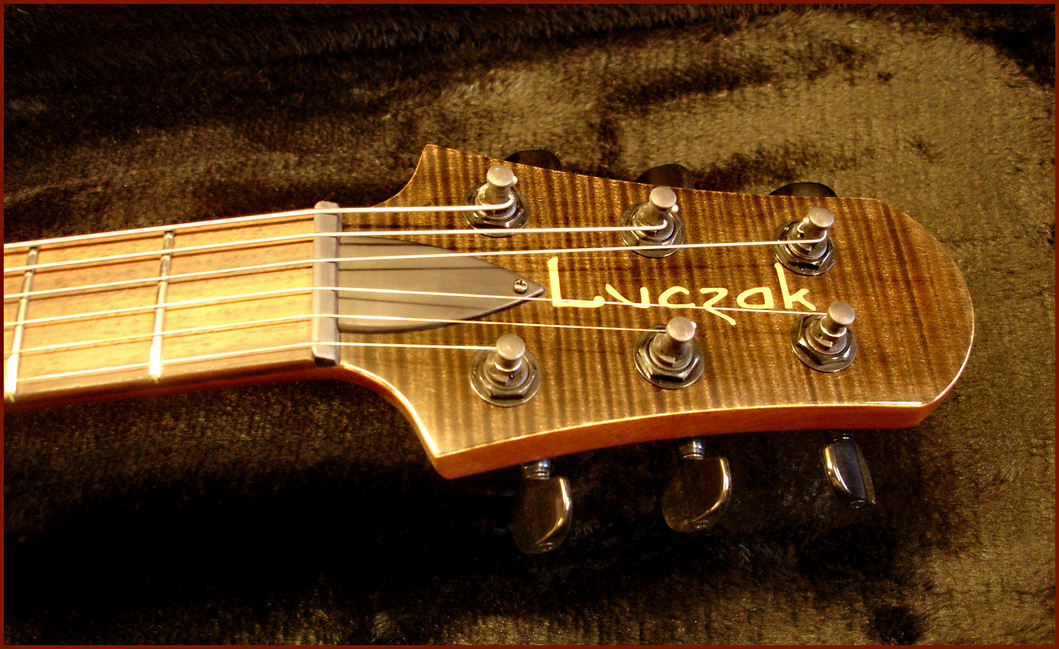 Original "Bell" shaped headstock - since 2000
"Flint Arches" headstock - introduced 2010
..... Greetings from
Flint , Michigan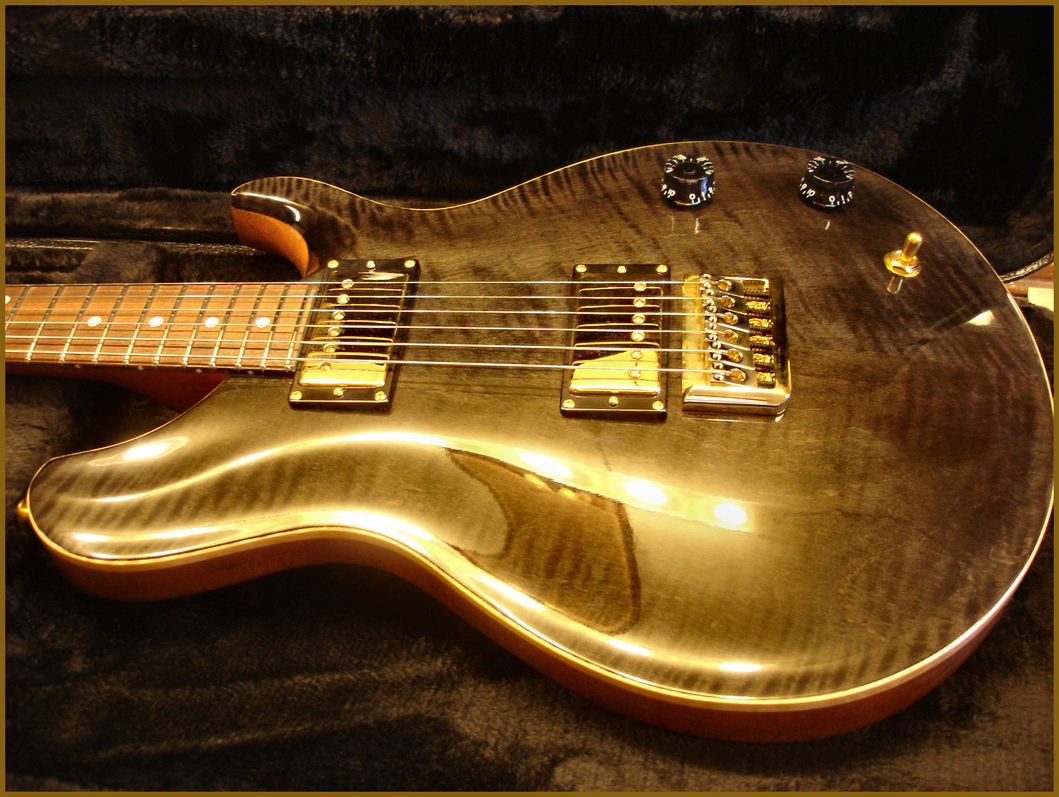 color shown -

"Lake Erie Black"
Classic Guitar Design

includes:
*Instrument Grade Lumber
*Hide glue, Fish glue. & Urea glue construction
*Nitrocellulose Lacquer Finish
*High-Quality Hardware including


Switchcraft

,

CTS

pots,

AutoTrim

locking tuners,


Tonepro's

or

Hipshot

bridges.

My name is Ron Luczak.
I have been building custom guitars since 1985.
I operated a small nondescript repair shop in my area since the 1980's and have
repaired countless musical instruments including guitars, banjos, and mandolins,
as well as violins, cellos, and upright basses for the area schools.

During the 1980s & 1990s I made 45 guitars of various designs usually inspired
by the popular brands of those days including Jackson, Kramer, BC Rich,
and PRS which was my main inspiration.
I didn't buy pre-made parts, I began with raw lumber and hand-made
the bodies, necks, and fretboards from scratch.

In 2000 I decided to focus on building my own guitar design and began
sketching various ideas but I quickly realized that no matter what I drew
it more or less resembled every guitar that already existed.
I knew I wanted it to have classic features and a traditional shape, so I drew inspiration from my favorite vintage guitars which were made by the original Gibson
company in Kalamazoo right here in Michigan in the 1950s' and 1960's .
I also wanted to "build" them the same way Gibson used to - relying on
human skill rather than computerized machinery.
No two vintage guitars are exactly the same, but the craftsmanship and ability for one
person to build & pay close attention to every inch of that guitar insures that the
finished instrument will surpass anything that assembly lines and computers can do.
I finalized my Luczak design and began building them alongside any custom
and one-off designs I am commissioned to build.
I always hear the comment "It looks just like a PRS" - which I take as a compliment, but upon close inspection of the construction methods and "feel" it's really more of a
vintage Gibson .....which by the way was also the inspiration for PRS !
I've never attended a "Guitar building school", maybe because of coming from a family
with a long woodworking history it's just in my blood (?)
I just know I love building guitars and It's my passion.
Over the years I have amassed many tools and gained the knowledge and
experience that only time can offer.

*My mission is to build guitars the same way they were made in the "Golden Era" of
American guitar-building using high quality instrument grade lumbers, hot hide glue,
quality components, nitrocellulose lacquer, and the human skill and ingenuity that no
longer exists in modern day brand-name assembly line guitar factories *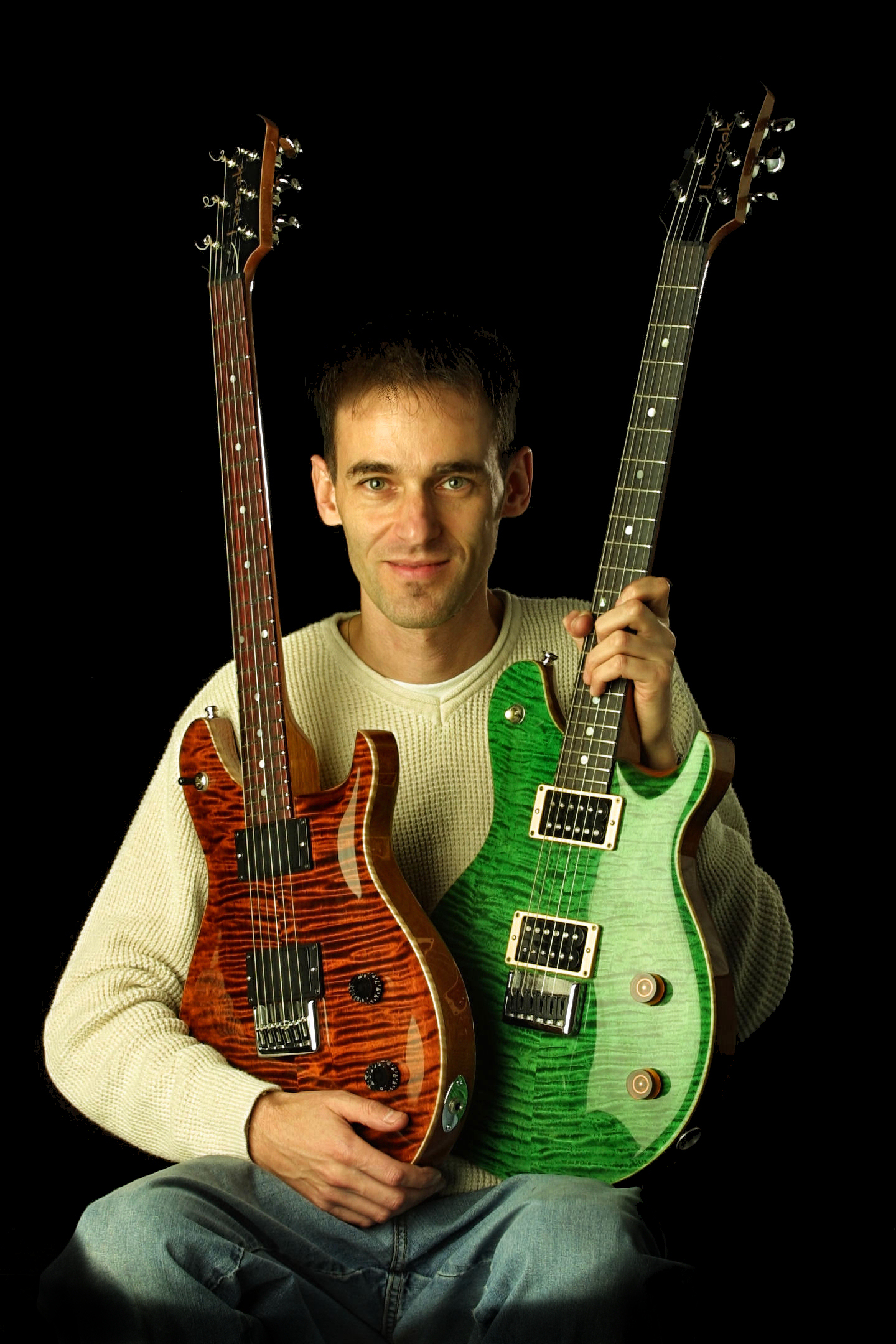 ...choose from

Two headstock shapes.....
Options include:


-choice of three different scale length's-
"G" = 24 & 3/4"
"P" = 25"
"F" = 25 & 1/2 "

-choice of Bridge-
"Hipshot" string thru body hardtail (shallower neck angle- strings closer to body)
" Tonepro's" wraparound (increased neck angle- strings higher off body surface)
"Tune-o-matic + Stoptail (same neck angle as above)

- 22 or 24 frets and choice of Fret size

-placement of electronics-
"Switch located on upper horn or lower bout with the knobs"

-Wiring options -
" choose Vol & Tone for each pickup (4 knobs)
or Master set controls for entire guitar (2 knobs)
or whatever you like...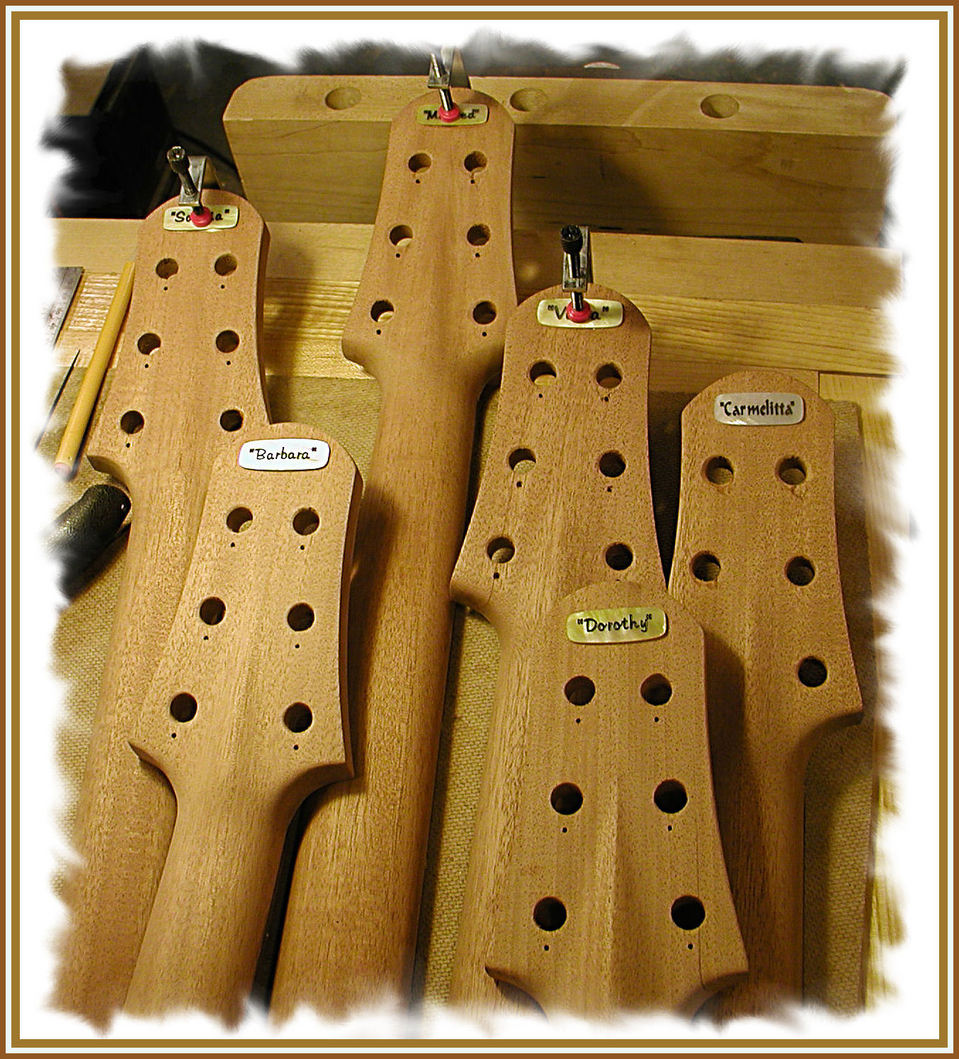 Instead of a "serial number" each

Luczak

guitar receives a "Name" of your choice
which is inlayed into the guitar.
The build date and guitar number is entered into the control cavity.

* Distinctive
redesigned
Volute

Well seasoned/dried lumber is critical for resonance & tone in any musical instrument.
Hot hide glue pulls the wood together tightly as it cures allowing the wooden components
of a guitar to bond together like a single unit so that the vibration of the strings can easily telegraph from the tip of the headstock all the way to the end of the body.

Then finish with a thin skin of real nitrocellulose lacquer, just enough to seal the guitar - too much and the resonance starts being hindered. Strumming the guitar unplugged will exhibit a​ lively tone & sustain that will only sound better when plugged in.

* This is how I make my Guitars *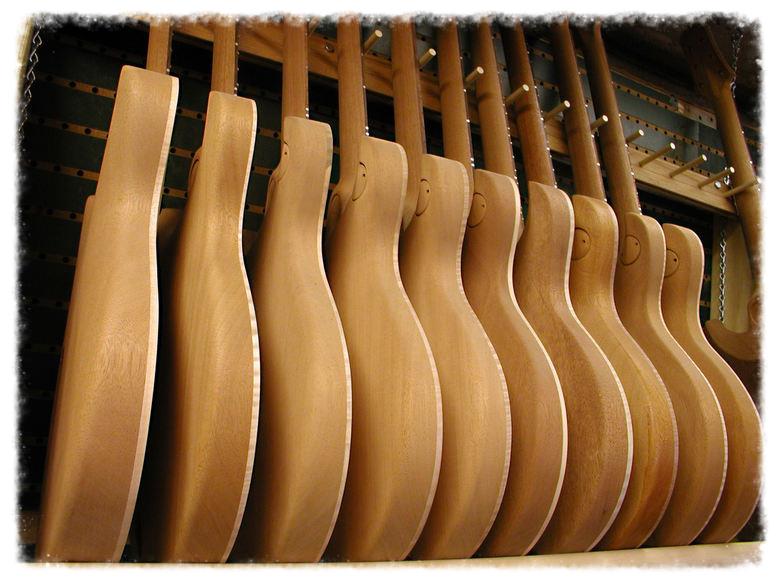 *Disclaimer: I am in no way affiliated with any guitar companies such as Gibson, Fender, BC Rich, Jackson, Kramer, or PRS*